India Smart Grid Week (ISGW) 2015 at Bangalore
India Smart Grid Week (ISGW) 2015 at Bangalore
02 ~ 06 March, 2015 , BIEC Bangalore

In 2013, Govt. of India issued Smart Grid Vision and Roadmap for India; and the newly elected Government in India is committed to provide 24×7 electricity to all households in next 5 years and has recently launched 3 focused programs towards this objective with a total capital outlay of US$ 14 billion. The new Government has also announced an ambitious program to build 100 Smart Cities on fast track. With all these ground breaking initiatives, India has already emerged as the prime destination for Smart Grids and Smart Cities.
India Smart Grid Week (ISGW 2015) was organized from 02 – 06 March, 2015 at Bangalore.
ISGW 2015 was planned as a Conference cum Exhibition that brought together India's leading Electricity Utilities, Policy Makers, Regulators, Investors and world's top-notch Smart Grid and Smart City Experts and Researchers to discuss trends, share best practices and showcase next generation technologies and products.
Session

Mar 03 (Tue) – Mar 05 (Thu), 2015 (3 days)

Venue

Bangalore International Exhibition Centre (BIEC), Bangalore

Organized by

India Smart grid Forum (ISGF)

Supported by

Ministry of New and Renewable Energy,
Ministry of Power
Ministry of Urban Development Govt. of India
Department of Telecommunications Ministry of
Communications & Information Technology Govt. of India
Department of Science & Technology Ministry of Science & Technology Government of India
Department of the New Energy and Industrial Technology Development Organization (NEDO)

Exhibitors

About 37 Companies and Organizations

Pavilion Member Nations

Japan, USA, Canada, British, South Korea
The interest of visitors
Technology of electricity demand side

Energy reduction and energy-saving technology of air conditioning and lighting of the new headquarters
Green Factory
Developing and commercializing (micro grid)

Business scope of the Shimizu Corporation as the EPC contractor

Shimizu Corporation offers services but doesn't possess production facilities
Point of our business are optimization, integration, system construction and overall optimal procurement
Our team presence at the Exhibition was evident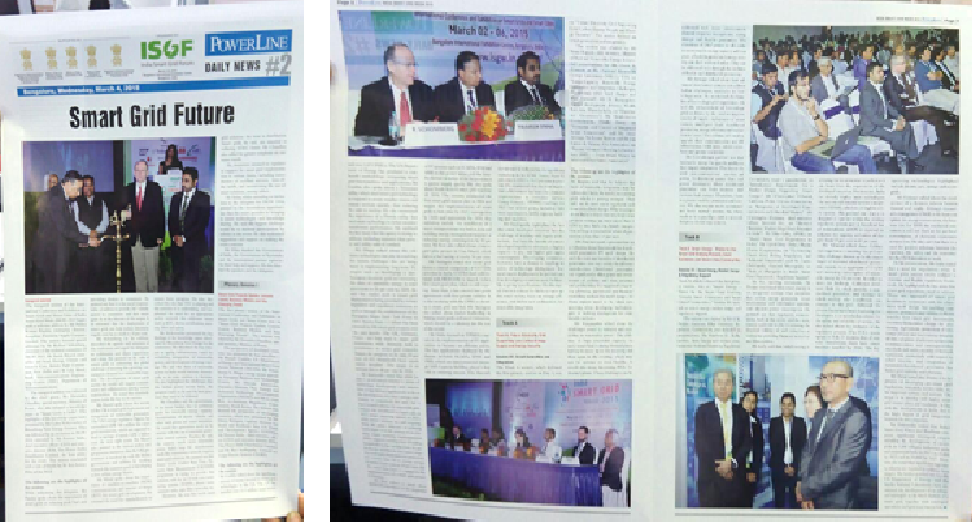 Thank you all for visiting us during this wek to our booth and had very intensive discussion in ISGW 2015.